Sam Gordon, developer and proprietor of KAN Tulum resort, first walked onto the land he had purchased for development, saw its canopy of trees teeming with life, and realized he had to do everything in his power to honor and protect this small slice of Mayan Jungle. Which he did. At times, KAN Tulum's approach to sustainability involves advanced technologies and at others embraces low-tech ways of living. For Sam, treating the land right can be as simple (and yet as large a feat) as ensuring that the trees that were there for hundreds of years remain after construction or as straightforward as offering living wages to the local talent pool that drive the business.
We sat down with Sam to discuss the philosophy behind KAN Tulum and what those philosophies mean in practice.
Editor's note: this interview has been edited for clarity and brevity.
LG
This is something new for Assemblage Views. I get to have my first conversation with you, a fellow Brit. Can you tell us your name and briefly what you do?
SG
I didn't realize that I was a first. I'm popping the cherry today! I'm Sam Gordon. I'm the developer of KAN Industries and KAN Tulum. Basically, we took a good look at Tulum and decided what everyone's claiming as sustainability wasn't real. Sustainability has become a buzzword, eco-friendly has become a buzzword. Even down to all of the certifications that are out there right now, and how they're not always relevant to the actual land that things are being built on. So we took a really open view on that and tried to create a sustainable model based on the land and what the land is offering us. It's as simple as that.
LG
You mentioned that there aren't certifications in place that give actual credit and value to what people (developers) are claiming to be. Whether it's a hotel here in the hotel zone or a resort somewhere. They're claiming to be sustainable or eco-friendly, but there's no actual, real governing bodies that are verifying these claims. It's only really people's opinions. Can you talk to me about before you started KAN and the time and work that you put in and did as a developer?
SG
First of all, I wasn't always into sustainability. It's a very Tulum thing to say that I got to Tulum and I became conscious. But it happened. I walked onto this land and saw that this is actually a jungle. This is actually deforestation, this is actually killing habitats. But I was in the position of having to make the land work financially. If I sold it, other developers were going to build on it, but I couldn't afford to just sit on it and let it go. I decided that we were going to really understand the land and understand what we're up against before we started. The first thing that became apparent to me were the trees, some of which had been here for hundreds of years. What gives me the right to remove something that's been here for 100 years? What gives me the right to put a building there and call it sustainable? To me, that's the complete opposite of what I believe sustainability really means.
SG
On the flip side, how am I going to do a development without dealing with the trees. You're in the jungle. So we moved 107 trees. And that was quite a task here. It's solid limestone ground. So we had to take solid rock off these roots that have been there for years and replant them. We ended up losing eight trees, but we've multiplied that number tenfold. So we were actually responsible for reforestation. Second, was the water. One of the biggest threats to humanity is water supply. The infrastructure in a place like Tulum is not caught up and is not resilient against the speed of the growth here. Sadly a lot of developers have just turned a blind eye to where the water, especially waste water, goes, and how it interacts with the underground river system here. So we actually deal with all of our waste on site and it comes out the other side essentially clean. They say it's clean enough to drink but we don't drink it. But we do use it to water all of the plants.
Another part that was very important in a place like Mexico, where you can't drink the faucet water, is drinking water. Water is the one thing on the planet that we really do need to survive. So we developed a particular reverse osmosis system and you can drink from every faucet onsite. 
The first thing that became apparent to me were the trees, some of which had been here for hundreds of years. What gives me the right to remove something that's been here for 100 years? What gives me the right to put a building there and call it sustainable? To me, that's the complete opposite of what I believe sustainability really means.
LG
So you've mentioned sustainability quite a few times with regards to the current project. I'm listening to you and thinking about how it feels like a closed loop: how waste is dealt with, plant life remaining on site, reverse osmosis in the water so that it can be drunk. There are the materials that can be reused from the land. You've also mentioned muck waste removal. You've pointed out the limestone used from when you did the excavation before construction. Did you foresee that going into the project or did you decide to do utilize these various materials as you were moving along?
SG
We looked at sustainability certification models and realized not everything was relevant to our project. But reusing what is on site is almost always included in most certifications. This table was made out of recycled wood. We worked with a company, Studioworks. He goes and collects all of the waste wood from other building sites and makes everything bespoke to whatever it is you need, which may seem like a little thing, but it's really not when you actually see the thousands of developments that are going up in this area. It's mind boggling the amount of wood that is burnt or thrown away.
LG
It feels like you are really leading the way without looking backwards, because you believe in what you're doing. But you're not looking back at all of these other hotels or resorts that aren't following, but more leading by example. Right?
SG
This is an area where eco-chic and sustainability are buzzwords. Everyone's using them. If I were to go up against everyone, it would become a war. And everyone has their opinion. There's a renowned developer in the area who has a different opinion of sustainability to what mine is. His is all about renewable energies and innovation and technology, where I don't see that as so relevant to this land. He was actually on a podcast that I was running a couple of years ago and we had that conversation. I believe I'm doing the right thing because I chose the piece of land and actually work with the land, which is what I see as true sustainability. But everyone has their own opinion. So I'd say don't look back.
LG
You've mentioned the land a few times and how important it was going into this project and any future projects for you. How important is the consideration of people as well?
SG
One of the things that a lot of people overlook is the people of the land. The people who were here originally. This place has grown. This place was a small beach village 15 years ago and now it's growing into a city. And unfortunately the wealth divide is getting bigger. There were certain things that we tried to do with the locals and communities from here. One of the programs was very simple. Feed your workers. The sad reality is very few developers are feeding their workers. All of our workers at the hotel now get fed three times a day. The other thing is we went after was a living wage, not a minimum wage. It wasn't possible for people to live off of what the minimum wage was. These guys are working hours in the sun and they're just not looked after. We had pressure from other developers on us, concerned that we were driving prices up. But I said, no, you just need to change your model to understand and protect the area and protect the people around it. There's another program that we started that would encourage our employees to learn new skills from each other. If you're pushing a broom, you get to spend an hour a day with a carpenter or a plumber. It's tough to implement, but we are making our best effort to do it. We're pushing to also take that to the next level, maybe through some sort of certification process.
LG
I wouldn't even begin to think about actually passing that forward to the people that are helping you to build what you're trying to build.
SG
It's not just about bettering ourselves, it's about bettering the area. All the prices are going up and the wealth divides are getting bigger which essentially brings the crime rate up. And these guys are still working on site for a lot less money. I mean, if we're making $5,000 a square meter (editor's note: $3000 per square meter is the average for the area) why can't we raise their rates? It should trickle down the line. But unfortunately here the more the prices go up the greedier the developer gets. It's really the wrong attitude to grow an area.
LG
Do you strongly believe that you're going to stay the path and just let other people see what you're doing? Again, leading by example?
SG
We like to do talks. I always offer for developers and hotel owners to come and have a look and have a conversation. At one point I was going to offer free consulting to people but it didn't really bite. I'm just going to continue the path and see where this goes in phase two. We are constantly wanting to improve. To improve and to educate. That's sustainability to me.
We are constantly wanting to improve. To improve and to educate. That's sustainability to me.
LG
I love that: improvement and education. Can you talk a little bit about phase two KAN?
SG
Phase two of KAN. We launched the first presale three weeks ago and we are about 70% sold. We've really got a nice following of people that want to be involved, which actually shows where the world's going. It shows that there's a need for this sort of project. It shows the disconnect with the city dwellers and how disconnected they are with nature and how they naturally crave wanting to come back to nature. We have all the same elements, a few more amenities and we're upping the game in programs behind the workers. When it comes to the actual physical element of say, the renewable energy or the water systems, they're already in place to cope with the second phase. So there's no added add ons as such there.
LG
When I got the chance to visit here last time and you were walking us around, a lot of the buildings that have the apartments or condos are very distinctive in their design and architecture. But you made it very clear that the bamboo or the wood structure that's around in a year or so will be completely covered in greenery.
SG
This particular plot is 2500 square meters of land harboring around 10,300 square meters of vertical garden. So it's four times the amount of green area. I hate to use the word green area because it's another buzzword in Tulum. Developers will say 70% green area and it's really grass without a plant in sight. For us the green area is the actual working of that area: sucking in the carbon, the output of the oxygen. I consider it the only architecture in the world that gets better with age. I think I'd like someone to challenge me on that. It doesn't matter how modern and nice it looks, every piece of architecture always looks tired after a few years. But here nature will take over and nature never looks tired.
As nature takes over, and it will, the jungle always wins. But we want the jungle to win here. And we've actually designed it so the jungle can take over, but it can't take over certain parts like the inside of the buildings. But outside we just want it to be completely taken over.
LG
I don't know if this is a new word. But essentially this is regenerative architecture.
SG
I'd like to say so. Yeah, that's a nice word.
LG
Moving into the future beyond KAN, what is your hope through the lens of what you've done so far?
SG
To stop putting out stupid targets that don't mean anything. This takes me to a book called Doughnut Economics, which is one thing that's really resonated with me for a long time. Why aren't we going on to the nearest piece of virgin land when we're developing and taking every physical measure possible? We live in a world of measure. We measure everything. We can measure the soil quality, air quality, the animals, the plants. And those should be our targets for sustainability, because that's what the land intended. I think that's the way we will achieve what the planet really intended. That opens the door to projects for the future where I want to take over old buildings and recreate those targets on an old construction. That's on my mind a lot.
—
To find Sam: @sustainablesam7
To find KAN Tulum: @kantulum / kantulum.com
Next Story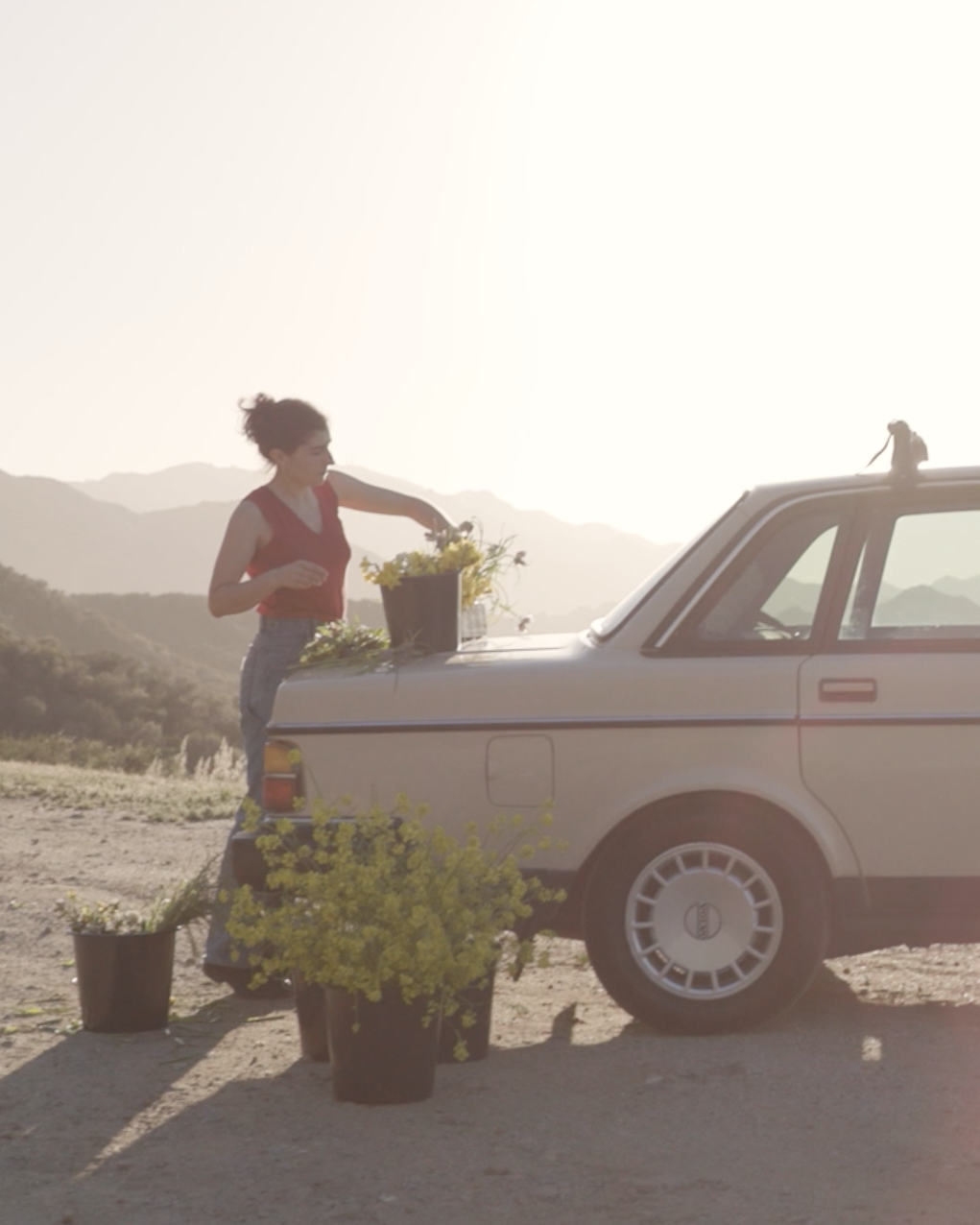 A Meadow in a Vessel
A floral designer surrenders to the inherent beauty of nature.
Read Story